"It's blues, just heavier"
Boscoe France's authentic musical style is an awe-inspiring alchemy of blues, rock and little bit of down-home soul. In what is sure to be an unforgettable performance, Boscoe's indescribable slide guitar skills are well matched with his "rock your socks off" style of Blues. Yes…. literally…. this Kentucky firebrand stands barefoot on stage, playing with the skill and talent of a master musician fused with the intensity of a bare knuckled brawler.
Since picking up his Uncle Duke's guitar at the age of three, Boscoe has forged a truly unique sound. In his years of experience, he has been blessed to share the stage and open for remarkable musicians such as: BB King, Paul Reed Smith, Sonny Landreth, Keb Mo, Emil Werstler, Johnny Neel, and Jimmy Wallace, to name a few. Boscoe currently performs at music festivals and PRS guitar clinics across the country. His joys are playing music, traveling to festivals with his family, and living the good life in Western Kentucky.
---
2006
In 2006 the western Kentucky native returned to Madisonville to take a break from touring and focus on family and his own band.
---
2009
In 2009 The Boscoe France Band was born. The band was an opportunity for the guitarist to do all the vocals. What resulted was a power-trio.
---
2012
In 2012 Boscoe took top prize in the National Guitar Center King Of The Blues Challenge. Later that same year he recorded an E.P. with Grammy award winning producer Pete Anderson.
---
2013
2013 would provide the thrill of a lifetime when Boscoe received The King's approval when he was asked to open for and later be called out on the stage by Mr. B.B. King. It would also the first year The Boscoe France band would be semi-finalist in The International Blues Challenge in Memphis, TN. An accomplishment they would repeat in 2014.
---
2015
2015 Shoeless Blues: The Journey of Boscoe France appeared nationally on PBS and is still airing around the country.
---
Today
Today, Boscoe is playing festivals across the United States, writing a new album, as well as being a featured Artist and Clinician for PRS Guitars.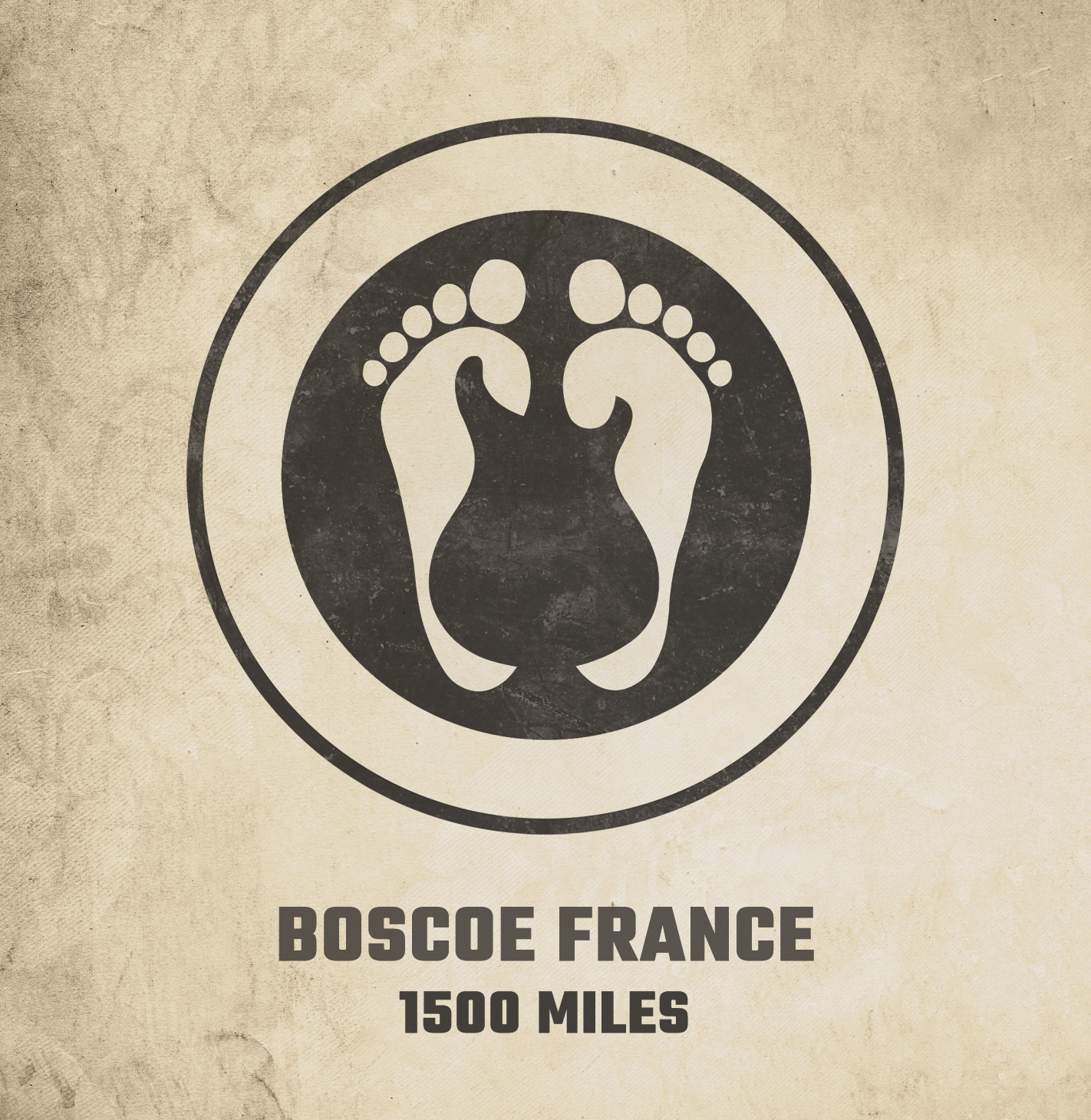 1500 Miles
New EP Coming:
1/31
---
Tracks
Evil Woman
My Kentucky Home
Shackles
Worried Mind
Chicken Plucker
---
All Songs: © 2017 | Boscoe France Music
All songs written by Boscoe France
Boscoe France Music
Shackles written by Boscoe France/Paul Reed Smith
Boscoe France Music/Paul Reed Smith Songs
Guitar and Vocals- Boscoe France
Drums- Jonathan Allen
Bass- Jan Zukowski
Produced, Engineered, Mixed by Paul Reed Smith
Evil Woman and My Kentucky Home Mixed by Peter Denenberg
Mastered by Peter Denenberg
Recorded at Dragon Crossing Studio, Annapolis, Md.
Boscoe France lead singer and vocalist of the Boscoe France Band entered into a meaty, mind-splintering solo that caught the attention of every patron in the building including myself.
Boscoe France hails from Western Kentucky and in 2012 he beat over 4000 guitar players from across the US to win the Guitar Center Battle of the Blues competition. He's a remarkable player that started stunning the crowd from his first riff.
An unknown guitar virtuoso from Kentucky wins Guitar Center\'s "Battle of the Blues" competition. After the win, Boscoe France finds himself recording with Grammy winning producers, opening for B.B. King, picking out the guitar of his choice at the Gibson Custom Shop, and taking his kids to Disney World.
Boscoe opened for the late B.B. King recently and said he was humbled. Talk about a notch on your guitar strap! Also his recent documentary, Shoeless Blues, has been playing on PBS all over the country. It's a great story about a father, his love for his family, and his musical journey. Quite touching, I must say.
France successfully marries incredible slide guitar skills with arrangements heavy in blues to create a mesmerizing, if unconventional, performance.
France successfully marries his straight-up slide guitar skills with arrangements heavy in blues, always including an avant-garde performance where he mesmerizes his audience with an unconventional, guitar-playing fantasy.
SEASAC welcomes artist/songwriter Boscoe France for representation.
Daniel France, known to fans as "Boscoe," walked onto the stage barefoot at the Grand Finals last Saturday night, but it was his command of the fretboard that drew the attention of the judges. Performing an impressive Freddie King-style blues shuffle, France proved to everyone watching that his knowledge and love of the blues would make him a frontrunner in the competition.
Bookings: booking@boscoefrance.com
General Information: boscoef@yahoo.com